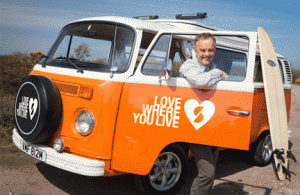 Imagine receiving a communication that starts…
WELCOME ON BOARD! Congratulations on being selected to take a break in the Stephens Scown campervan!
As a proud and committed West Country legal firm, Stephens Scown LLP think the region is an amazing place. Their Love Where You Live campaign is designed to help promote Devon and Cornwall as the ideal place to live and work. And their campervan is part of the campaign to help share what's great about the region.
Working with the Director of Marketing, MAMMALcreate designed campaign materials across all collateral – even the campervan itself!
As the client knows the region inside out, they asked their staff to pull together lists of what they think are the best beaches, restaurants, walks, days out and even views. MAMMALcreate crafted these personal recommendations into the 'Insiders' Guide' to Devon and Cornwall – creating a unique resource so all campervan users could make the most of their break in the South West.
We created packs, sheets and guides with top tips, useful information about the campervan including what to do in the unlikely event of an accident or breakdown. And lucky users were encouraged to share their own trip highlights, photos and recommendations.