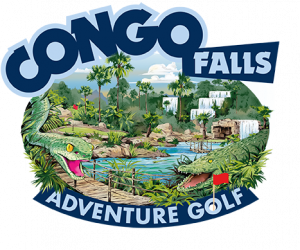 Opening summer 2020, Bristol's spectacular Congo Falls Adventure Golf course boasts blue lagoons; mysterious islands; gushing waterfalls; wobbly bridges; deep water rafts; diamond caves and holes where balls tumble through fast flowing streams.
All these exciting adventure-mini-golf elements are part of a intricate image created by the MAMMALcreate team for the striking Congo Falls Adventure Golf logo.
For sneak peek at Bristol's best Adventure Golf Course – opening later this summer – log into Facebook. We're sure you'll like what you see.