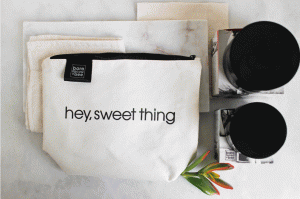 The coolest black glass and fresh natural canvas.
This summer Barefaced+Bee commissioned MAMMALcreate to create a contemporary typographic design and launched their 'Hey, Sweet Thing' wash bag. Printed in black on fabulous heavy natural canvas, lined in black cotton and finished with a black metal zip and Barefaced+Bee logo tab this really is natural summer style.
Then they stuffed the bag full of honeyed skin detox spa goodies. The 100% natural and organic honey based skincare kit features full sized 'buff stuff' and 'smooth groove' products in their lovely MAMMALcreate designed jars and boxes.