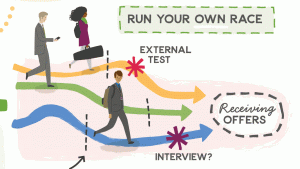 Following our successful building-wide interior signage project, the outstanding Bristol Cathedral Choir School asked us to create two panels to describe the student journey through sixth form.
An important part of the school is pastoral support and these timelines had to communicate support and working together. Images had to represent the students with attention to details such as their business-style dress code.
We needed to include rather dry, factual information – dates, deadlines and advice for applying to university. The challenge was to deliver it in an appealing, interesting and digestible way.
Mammalcreate selected talented Bristol illustrator Carys Tait to work with on this complex solution.
Our client said:
I have only received amazing comments about the illustrations… so thank you.  They look great. 
Comments have come from students too, who have been looking at them and using them as we had hoped, so thank you so much for such great work where they can visibly see their time in Sixth Form.
Lisa Hudnott, Sixth Form Pastoral Assistant, Bristol Cathedral Choir School